Welcome to the Hill City Master Gardeners
Virginia Master Gardeners are volunteer educators who work within their communities to encourage and promote environmentally sound horticulture practices through sustainable landscape management education and training. As an educational program of Virginia Cooperative Extension, Virginia Master Gardeners bring the resources of Virginia's land-grant universities, Virginia Tech and Virginia State University, to the people of the commonwealth. All information we disseminate must be research-based by VT/VSU.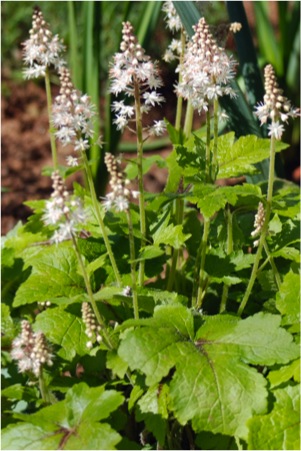 Gardening Tips for April
Perennials/Annuals – Begin planting your gardens, but remember that the last average frost date in Lynchburg is
April 7.  Pansies and Geraniums may be planted early in the season, but hold off planting heat lovers such as impatiens, petunias and coleus until  mid May.  When planting your annual flowers, they require rotating  just like vegetables.  New bedding plants will get established faster if you pinch off their flowers at planting time.
Insect Patrol – Mild winters are favorable for ticks.  Keep your lawn areas mowed and stay out of weedy areas.  You may protect yourself  by putting your pant legs inside your socks. Read the label before using any type of pesticide.
Mow – Prepare for mowing season by removing tree branches, twigs and other debris from your lawn.  Wait to mow until the grass has grown at least two inches.  The roots are being renewed in the spring and grass needs vigorous top growth initially.
Moss – May be a problem.  Moss grows well in most any soil whether acidic or alkaline, wet or dry, sun or shade.  Removal or treatment  without changing soil conditions is not long lasting.  http://pubs.ext.vt.edu/430/430-536/430-536.html.
Cleanup – Don't be over anxious about pulling up what appear to be dead plants.  Many perennials are killed to the ground, but the roots are still alive and will support new growth.  Butterfly Weed is a late arriving perennial – mark where you planted it so you don't dig in the area.
Mulch – Mulching helps reduce weeds, retain moisture and reduce fluctuations in soil temperature.  Mulch should not be more than 3-4 inches deep and kept about 6 inches away from the tree trunks.
---
---